Who Makes Transeagle Tires – (Top Choice Among Drivers)
Transeagle tires are products of TransAmerica Tire Co. Ltd. Hence, though this is an American brand, the tires are not made in America.
Transeagle tires are manufactured in China. The parent company only controls the sales and distribution whereas some other company supplies the products.
But what about the performance? Well, this is the thing I'm going to explain here. Not only that, from its manufacturing company to its performance, everything will be covered here.
who makes transeagle tires? brand overview
The owner of Transeagle tires is TransAmerica Tire Co. Ltd. This company has several other tires under its brand name. Freedom Hauler, Venom power, and predator are the other tire brands.
But TransAmerica doesn't make their own tires. Rather they outsource these products from another manufacturer. To reduce material, labor, and other additional costs, many other industries follow this method too.
All of these tires are very popular in Brazil, Europe, and Canada. Transeagle tires are well-known for their service at high speed. These tires are specially engineered for heavy-duty vehicles.
Where are transeagle tires made & manufactured?
You already know that TransAmerica is not the manufacturer of their tire named Transeagle. Then who is the real manufacturer and where actually they make them?
Well, a Chinese company named WindForce is the manufacturer of these tires. This is situated in Shandong, China. They are one of the largest manufacturers of different tires for many other companies.
As I've mentioned before, in China, the labor and material cost is lower than in America. That's why many companies tend to outsource products from there.
Why are transeagle tires any good among drivers? (5 Benefits of Transeagle)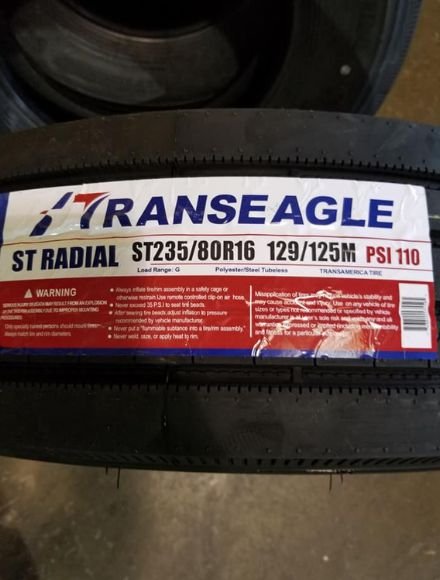 Transeagle tires have several facilities for which you can choose these tires. Here below, I'm mentioning some top features of these products.
#1- Long tread life:
Transeagle tires are known for longer tread life. If nothing unexpected happens, a tire can last for several years if maintained properly.
#2- Wide rib design:
The center rib of these tires is wide enough to provide sufficient traction even on muddy roads. The design also provides good control for heavy vehicles.
#3- Good control:
In extreme weather conditions Transeagle tires can provide excellent handling capability. The wide center rib design ensures this feature.
#4- Less noise:
The noise generated from these tires is not that loud. So, you will enjoy almost noiseless driving.
#5- Quality material:
Though the price of these tires is low, the material quality is not bad. Rather, within this budget range, it's considered one of the best.
Whether Transeagle Tires Good Compared To Other Brands?
1. Sailun tires vs Transeagle:
Sailun tires are better in terms of durability and service. But there are some considerations regarding the price and other facilities when compared to Transeagle tires.
2. Freedom hauler vs Transeagle:
This is another tire brand from the same company TransAmerica. These tires are almost close to the performance of Transeagle. Depending on your vehicle, you can choose either of these.
Are Transeagle tires reliable? How long do they last?
Well, since there is no official website or offline shop dedicated to the Transeagle tires, no solid information is available regarding how long these tires will last.
As per some users' assumptions, Transeagle tires can last for approximately 50,000-60,000 miles. But there is no hard and fast limitation for the lifespan of these tires. Depending on the driving condition, skill, and maintenance the durability can be changed.
What are the best Transeagle tires among user?
As I said earlier, the TransAmerica tire company Ltd. has several tires within their company name. Among those, there are many models of Transeagle. Here below, I'm mentioning some of the best tires from this brand that you can buy if these meet your demand.
Transeagle all steel ST radial:
These tires have excellent durability due to their long-lasting material quality. Not only that but this model is also known for providing good grip in heavy-weight vehicles at higher speeds.
Trasneagle steel belted ST:
This is another popular product from this brand. These tires are so available that you can buy them in almost all online tire shops. These tires are a complete package of durability, performance, and affordability.
Good and downsides of Transeagle tires
There is no such thing that is perfect. So there are pros and cons for these tires too. Here I'm sharing some of the good as well as bad aspects of Transeagle tires.
Pros:
These tires are specially made for performing in heavy-duty vehicles.
The wide center rib is excellent to perform on muddy roads as it reduces the effect of weight for large vehicles.
TransEagle tires provide fantastic traction even at higher speeds due to their design.
The price of these tires is quite affordable.
Cons:
Not each product is of the same quality. Some users claimed that they'd faced blow-out in some cases.
These tires are not manufactured in America. Rather, the manufacturing unit is in China. So, if you're not okay with a Chinese manufacturing brand, then this may not be an option for you.
How much does it cost to buy TransEagle tires?
This brand has several types of tires. Among them, some of the most sold tires are listed below with an approximate price. This price is not certain as it can vary according to the seller, zone, and policy.
| Model name | Price |
| --- | --- |
| Transeagle All steel 225/75R15(4pcs) | $ 597 |
| Transeagle All steel 225/90R16(2pcs) | $ 340 |
| Transeagle ST radial |235/80R16 | steel belt(2pcs) | $ 213 |
| Transeagle ST radial trailer tireST 215/75R14 | $ 75 |
What do you need to consider in choosing Transeagle tires?
Before buying Transeagle tires, there are some tips one should keep in mind. First thing first, discuss whether there is any warranty policy or not. Also, ask about the after-sell services.
Some other things that one should consider are listed below.
Material quality and finishing
Size and fittings
Defect on the sidewall
Model of the tires
Frequently asked questions (FAQs)
Are Transeagle tires made in the USA?
No. Though the parent company is American, the manufacturing unit is in China.
Are Transeagle tires good for regular vehicles?
Well, these tires are basically made for trailer vehicles and capable of going long miles. To use these in regular vehicles, make sure the size and other properties match properly.
Are Transeagle tires worth the money?
Since these tires are made in China, they are extremely cheaper than other available brands. So, compared to its price, yes, it is worth the money.
Verdict
Traneagle tires are owned by an American company named TransAmerica Tire Co. Ltd. Besides this brand, the company has several other tires that are available in the market.
But none of these tires are made in America. Rather, these are manufactured in China due to low labor and material costs. Though Transeagle is not a premium tire brand, the service and performance are well enough compared to the budget.
So, if you're looking for a budget-friendly product to give a chance, give Transeagle tires a shot. 
Certification: BSc in Mechanical Engineering
Education: Mechanical  engineer
Lives In: 539 W Commerce St, Dallas, TX 75208, USA
Rasel is an auto mechanic student and writer with over half a decade of experience in the automotive field. He has worked with top automotive brands such as Lexus, Quantum, and also owns two automotive blogs autocarneed.com and taxiwiz.com.